Weight Log: 27.5 - Holiday Weight Weighing on My Mind
Published: 2022-10-19 // Progress since last post: +3.8 kg
---
Latest recorded weight:
188.1 kg - 414.7 lb - 29 stone and 8.7 lb - BMI: 58.1
---
---
That Escalated Quickly.
I'm not happy at all with this. I've not even gone crazy with eating, just lazy with my eating. So, I'm back to work tomorrow although from home as I have a fasting blood test in the morning then a Doppler ultrasound in the afternoon to rule out peripheral arterial disease in my leg. Back in the office on Friday.
Today marks the last of my 11 days off from work, a much needed break. During this time I have travelled up and down the country visiting mates, took some actual time to chill at home and then also went on a little romantic break on the coastline of South Cornwall for my partner's birthday, our first holiday together and my first actual holiday since pre-pandemic.
I didn't want our time away to end! We had such a magical and private little getaway in Cornwall, I can highly recommend Mullion Cove Coastal Retreat for a real escape away in luxury.
---
sigh - Okay back to the weight issue… I have until 2nd November 2022 to turn this around… I can do this. Post coming then.
Anyway, gif:~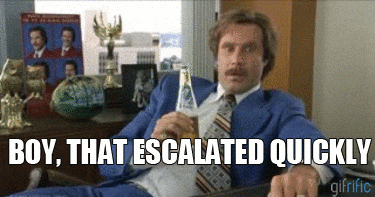 ---