Weight Log: 30 - 2023
Published: 2023-01-18 // Progress since last post: +2.0 kg
---
Missed recorded weigh ins:
21st Dec 2022: 187.0 kg - 412.3 lb - 29 stone and 6.3 lb - BMI: 57.7
4th Jan 2023: 191.0 kg - 421.1 lb - 30 stone and 1.1 lb - BMI: 59.0
---
Latest recorded weight:
18th Jan 2023: 187.8 kg - 414 lb - 29 stone and 8 lb - BMI: 58.0
---
A heavier start to 2023 🎉.
Oh yeah, my December was full of gains!… Weight gains. I really pigged out this year (SO MUCH CHEESE). Starting December sick then just really not having the willpower was killer. So after missing 2 blog posts and being late with this one, I'm back! Counting from the last actual post, I've gained 2kg after some rebalancing after Christmas. Good news, from 4th Jan to 18th Jan I lost at a good rate so what I'm doing is working.
I'm thinking I am going to have to quit Intermittent Fasting. I am getting headaches through the day and yes it is probably stress, they also subsided once I had something to eat. Again might be that food is just the stress relief I crave or that I am hitting that low sugars or staving mode too often now.
I should be beginning a NHS a clinically supervised very low calorie diet (VLCD) plan that involves eating about 800 calories a day or fewer. To do that, I will have to start eating breakfast, lunch and dinner regardless so would have to stop fasting for that. The NHS diet should start January or February. Sometime in April or May I should also be having a appointment to see if I am suitable to begin Ozempic (Semaglutide) to better control my type 2 diabetes with a side effect of weight loss. This will be through the NHS and the weight loss clinic. Not guaranteed but fingers crossed eh?
Once I get some of this weight off my front (thank you wonky weight distribution) I should be able to walk and exercise better without 200 lbs on my front destroying my back and leg.
Some good potential on the horizon. 🙏 I'm hopeful again. How low can I go!
Diet 🐷 / Mental willpower 😐 / Exercise 🔜
---
Back to regular updates so next post is due 1st February.
Anyway, here's the gif:~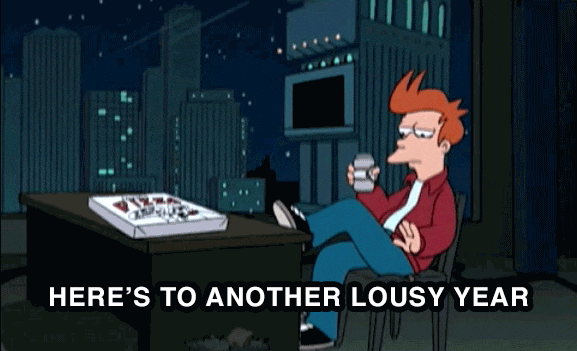 ---