Weight Log: 28.5 - Medical Appointments Are Like Buses...
Published: 2022-11-16 // Progress since last post: +0.5 kg
---
Latest recorded weight:
185.8 kg - 409.6 lb - 29 stone and 3.6 lb - BMI: 57.3
---
Medical Appointments Are Like Buses… You Wait for Ages for a One and Then They All Come Along Together.
From nothing to all the appointments! Monday I had a call from the GP regarding my cholesterol. This tomorrow I am finally getting my leg ulcer looked at and the Doppler scan. Friday I have additional blood tests to check my kidneys since I'm on so many pills plus a plethora of others I can't recall. No doubt I'll have more blood tests coming also since I'm now on 2 more pills. Fasting has been a struggle recently with my stomach getting incredibly painful during the day needing me to have a banana and cuppa soup during the day. In general my stomach and whole digestive system has been an uncomfortable bitch. Exercise and mobility have been up and down which in general is a worry. Low energy plus my size makes things so much work its just depressing. Mentally, I've bit all over the place but really need to find something to occupy me which allows me to switch off as well. I'll figure it out, maybe a new single player game or something. Thinking "The Outer Worlds".
Okay, cholesterol. So generally my cholesterol is fine, surprising medical professionals who take one look at my fat ass. That being said, my triglycerides level is high. My last cholesterol blood test was a fasting one so my triglyceride level should be below 1.7 mmol/L, it was 4 mmol/L. Non-fasting triglyceride level below 2.3 mmol/L. So triglyceride high, B12 low. Sounds like a right party in my blood huh? Raised triglyceride levels could indicate another genetic condition but could also just be lifestyle aka weight. I think one of my blood tests Friday are to try and find the cause of the elevated triglyceride level and maybe also investigating the cause of the B12 deficiency since my diet is not the cause of that. So yeah medically all go all of a sudden, lets hope this momentum will continue.
Diet 😣 / Mental willpower 😓 / Exercise 😟
---
Next post is due 4th December 2022, earlier than normal but for work reasons.
Anyway, here is a jpg!:~ (Credit to The Oatmeal)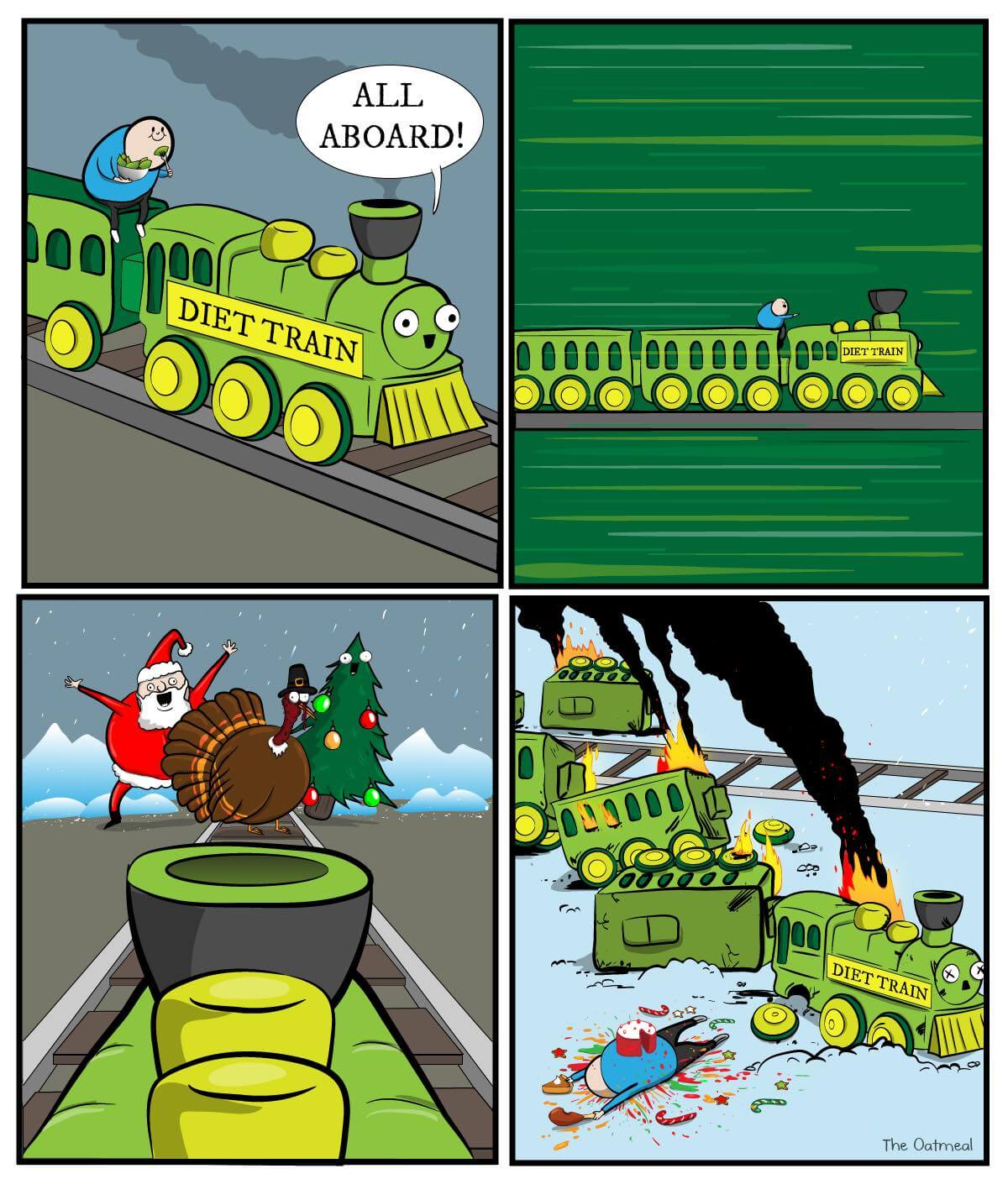 ---